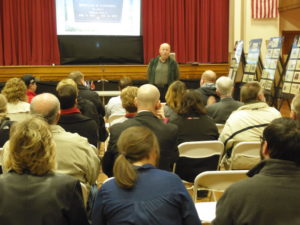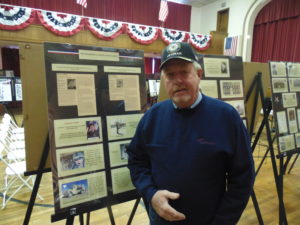 Article BY Dan Swanson | 11/08/2017
Photos BY: www.ncn21.com
NEBRASKA CITY – Ted Beilman's drive to save the Veterans Memorial Building in Nebraska City will be on display this weekend, along with tributes to over 800 veterans.
Beilman spoke to a group at Nebraska City Tourism and Commerce's hot topics forum last summer saying he wanted to display tributes to 150 veterans for the state's sesquicentennial on Veterans Day Nov. 11.
Soon, he was making easels, placing photos and organizing memorabilia. It became clear that the project would include displays for many hundred men and women who had served their country from World War I to the modern day.
Beilman: "There are some interesting stories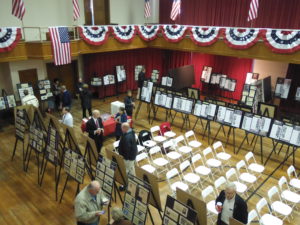 here. It's been very rewarding to meet a lot of the families of many of these individuals and, also, reading about what they did. It's been a real learning experience for me and it's been great because I've got to meet a lot of folks in town and throughout Otoe County."
Beilman said he recognizes that families put their trust in him to help tell the stories, such as an Otoe County man that commanded the United State's Sixth Army and a Nebraska City colonel that led the Harlem Hell Fighters in Europe during World War I.
As Veterans Day approached, however, it became evident to his friends that he would not be able to complete all the displays by himself.
Jim Kuhn, Ernie and Judy Glockel, and Connie and Dave Sackles joined in to get the tribute ready for its only weekend.
The Memorial Building will be open following the veterans mural dedication at 11 a.m. on Saturday. It will also be open from 10 a.m. to 6 p.m. on Sunday.
Kuhn, who served on the aircraft carrier USS Coral Sea with two tours in Vietnam, has a display that includes his son, Jim E. Kuhn, who served two tours with the US Army in Afghanistan.
Kuhn: "It's just amazing. I mean, you know, it's been a long time since the Memorial Building has had something like this. And, if you've haven't seen it, you need to get down here. If you're patriotic at all, it is amazing. It will knock your socks off."
Beilman also credited the Blue Star Mothers, middle school volunteers and Arbor Country Cleaners for helping to get the building ready.